CONTEMPORARY DANCE WYOMING
OPEN REHEARSAL
Thursday, August 16 / 5:30pm
Did you miss "Stealing Inward" in June? DW & CDW Artistic Director Babs Case invites you to an informal showing of the 75-minute work. This free, public open rehearsal will give you a glimpse into the Company's work in progress as they prepare to take it to New York City next summer.
THE SCHOOL AT DW
ENROLL NOW
Dance is more than movement. It's a time of discovery and a vehicle to explore rhythm, self-expression, communication and collaboration. For youth 18 months to 18 years old, we offer classes including creative movement, jazz, hip hop, ballet, pointe and modern. Fall semester classes begin September 10. Learn more about the youth program.
SUMMER PROGRAMS
Keep your kids smiling and enroll them in one of the coolest camps in town! For more advanced students, inquire about our upcoming intensives the weekend of August 8-10 and weeks of August 20-September 1.
TIKA MORGAN DANCE
FIERY 4-DAY WORKSHOP
September 20-23
San Francisco-based guest instructor Tika Morgan brings a mix of Latin, Reggaetón, Samba and Brazilian Fusion to Dancers' Workshop! Tika's classes seek to connect people with the universal world of dance. She has a keen intuitive sense in guiding and bringing individual dancers to their potential at any level, even the beginner.
OLD BILL'S FUN RUN
PLEASE REMEMBER DANCERS' WORKSHOP WHEN YOU GIVE TO OLD BILL'S!
The 2018 giving period continues through September 14, and a portion of every donation made to Dancers' Workshop through Old Bill's will be matched. Join us on Saturday, September 8 for the DW-led warmup and to "dance" or walk the fun run with us!
DAVID DORFMAN DANCE
POSTPONED UNTIL SUMMER 2019
The Dancers' Workshop presentation of David Dorfman Dance, originally scheduled for this August, is postponed to Summer 2019. The cancelled residency is due to a medical condition that requires immediate treatment and recovery time for the Company's Artistic Director. For those who have purchased tickets to the performance of "Aroundtown" on Saturday, August 18, your ticket(s) will be refunded through The Center Box Office.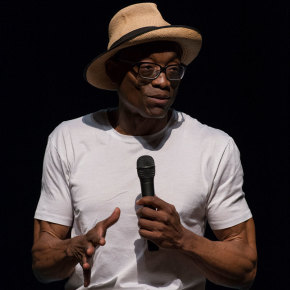 BILL T. JONES/ARNIE ZANE CO.
COMMUNITY PROJECT
In residence October 19-26
This October, MacArthur Genius Award and National Medal of Arts recipient Bill T. Jones and his company return for a fifth residency as part of our Artist-in-Residency commissioning program. In addition to the company, and Jones, who himself performs in this work, a broad cross section of our community (90 additional dancers and non-dancers are needed) is invited to participate in a community performance project led by Jones within the framework of The Deep Blue Sea. Master classes, free open rehearsals and a ticketed showing will be offered during the weeklong residency.