John Coakley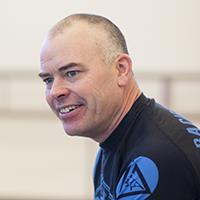 John teaches Zumba Fitness®, Street Self-Defense and Kids Empowered (Self-Defense for Kids) at Dancers' Workshop.
Baja adventurer, small wave surfer, X Terra off-road triathlete, Spanish butcher-er, Jiu-jitsu artist, mediocre musician, group fitness instructor, animal lover, & general do-gooder, JC been part of Dancers' Workshop's Adult fitness program since 2013. Despite coming from a dance family, John immersed himself in traditional & non-traditional sports. He captained teams that rowed at Head of the Charles & Henley Royal Regatta. After studying journalism at University of Massachusetts, he moved west to Jackson in 1992, fell in love and never left. After a serious knee injury in 2011 playing hockey, his wife convinced him to try Zumba Fitness® as part of his rehabilitation & to lose weight. He & his wife Jessica were both certified to teach under ZES Kass Martin in 2012. More recently, he achieved his Jiu-Jitsu Blue belt & hopes to open a Certified Training Center in 2017. JC holds self-defense classes at Dancers' Workshop.
John Coakley instructs the following:
Zumba Fitness® is an dance-based fitness class that uses a fusion of Latin and International rhythms with easy-to-follow moves. It includes both cardio and resistance training components designed to tone and sculpt the entire body. Zumba Fitness® is designed for adults of all ages and all fitness levels.