Bachata
This class is taught by: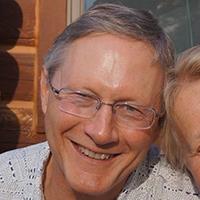 Stephen never had any aptitude (or rhythm) for dancing for the first fifty years of his life. Then he moved to Argentina and the Latin cultural must have worked its way into his blood. He started out dancing Tango, but moved on to Salsa and then Bachata because they were more fun and great social dances when you go out to clubs. Stephen dances L.A. style and Cuban/Rueda style salsa, and urban and classic style Bachata. His bachata classes focus on helping students learn the basics, then move on to more advanced moves that give confidence when social dancing. Stephen also teaches intermediate and advanced Cuban Rueda salsa. Stephen is one of the leaders of the Jackson Hole Salsa and Bachata group. Find out more about the group at www.strictlysalsajh.com
Beginner to Advanced Level
Learn to dance the fastest growing Latin dance. Taught by Stephen and Kirsten, this class is for everyone from a first time beginner to dancers who want polish their hot moves. Class will focus on the basic rhythm of sensual Bachata, open and closed style, and teach you routines that will have you out on the dance floor with confidence.