Barre Fusion
This class is taught by:
Michaela Ellingson is a Jackson Hole native and teaches Pilates, Barre Fusion and dance for the School at DW. Michaela was first introduced to Pilates as a student herself at DW. She received her Pilates Certification with Simona Cipriani through the Art and Science of Contrology Pilates Training Program in Purchase, New York. She taught at Exhale Pilates and New York Pilates Studio in London. She is thrilled to teach Pilates equipment and mat classes at Dancers' Workshop.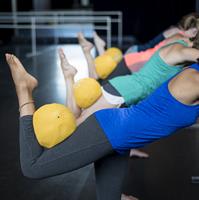 Barre Fusion classes draw from the diverse disciplines of Pilates, barre, yoga and classic strength training. Barre Fusion classes are designed to effectively strengthen, tone and balance the entire body. The classes offer fat burning workouts that integrate the use of the ballet barre, light weights and various props.
Image: John Slaughter Imagery
Upcoming classes: