bootybarre®
This class is taught by:
Kate Kosharek moved to Jackson in 2006 with a BFA in Dance from the University of Wisconsin-Milwaukee. She is the Pilates & Open Program Coordinator at Dancers' Workshop and a dance instructor for the School at DW. Kate is Pilates certified through Balanced Body and is a Level 2 MELT® instructor, trained by MELT® founder Sue Hitzmann. Specializing in Pilates & MELT® group and private training, she educates her clients in the awareness of alignment, emphasizing that healthy connective tissue and a strong core is key to achieving a balanced body and preventing injury. Kate is an experienced pre/post-natal instructor and is passionate about empowering women through their birth process. As her own experience continues to expand, Kate strives to give her students the ability to develop a curiosity and understanding of intentional movement.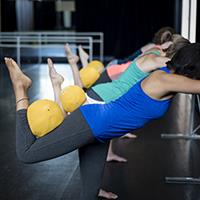 Alternate deep muscle-toning movements along with intervals of fat-blasting cardio techniques. This fluid, dance-inspired class is set to an upbeat music selection at a vigorous pace to get your heart pumping. No dance experience is required and all levels are welcome!
Wear something that allows you to move freely and feels comfortable to you. You might find it most helpful to wear something at least slightly form-fitting, so the instructor can see your form enough to make helpful corrections.
Upcoming classes: