Ballet Level 1 (9yrs+)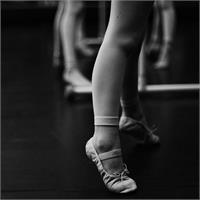 2x per week: Tuesday & Thursday
Ballet students advance through a carefully developed curriculum designed to teach students the highly technical language of ballet, emphasizing correct alignment, strength, flexibility, balance, grace, focus, discipline, musicality, and self-expression. Meets twice per week.
*Please note that ballet and modern dance are at the core of Dancers' Workshop's curriculum. It is recommended that students study Beginning Modern simultaneously with this class.
Ballet 1 begins at 9 years old and students will advance to higher levels as they master the curriculum as evaluated by their instructor and the School Director. Students who were in a level higher than basics last school year will take a placement class at the beginning of this school year to determine their starting level for the semester. Students will be placed in the level that maximizes their learning potential and can be advanced at any time.
Upcoming classes: