MELT®
This class is taught by:
Kate Kosharek is the adult fitness & dance coordinator, the Pilates coordinator, and a youth program dance instructor at Dancers' Workshop.
Kate has been teaching, performing and choreographing at Dancers' Workshop since 2006. She holds a BFA in Dance from the University of Wisconsin-Milwaukee and has over 10 years experience teaching movement to all ages. While living in Milwaukee, Kate was a member of Wild Space Dance Company, which sparked her passion for site-specific dance making. In 2008, she co-founded Hole Dance Films, which has created numerous dance films that have played in festivals across Europe and the U.S. Specializing in Pilates group and private training, Kate educates awareness of breath and alignment, emphasizing that a strong core is key to proper body functionality and injury prevention. As her own experience continues to expand, Kate strives to give her students the ability to develop a deep understanding of movement and their bodies.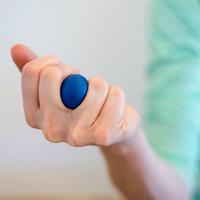 This neurofascial technique brings your body back to a more ideal state by directly enhancing body awareness, rehydrating connective tissue, and quieting the nervous system. This class creates a local fluid exchange to treat the entire body using a specialized soft foam roller and soft balls. A powerful yet gentle hour that realigns the joints, improves organ function as well as athletic performance without inflicting pain. All levels welcome.
Upcoming classes: