Open Level Ballet
This class is taught by:
Rachel Holmes is a former member of Elisa Monte Dance, a New York City based company. Rachel began her formal training at the Anneliese von Oettingen School of Ballet and the School for Creative and Performing Arts in Cincinnati, OH. Rachel went on to study at Ballet Met, Dance Theater of Harlem and the Joffrey Ballet School all on scholarship, and has continued to train in a variety of dance disciplines in open classes throughout New York City. She has had the honor of working with choreographers Andre Zachery and Joe Celej, and touring nationally and internationally with the Kai Kweol Contemporary Dance Theater in Cincinnati, Joan Miller's Dance Players, Elisa Monte Dance, NY2Dance, and Mazzini Dance Collective. Ms. Holmes has set works, taught master classes, workshops, and privates classes in the US, South America and Europe. Rachel teaches Jazz and Ballet to youth at Dancers' Workshop as well as instruct for DW's outreach to other Wyoming communities.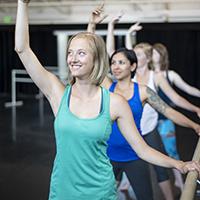 This open level class moves at a slower pace and time is taken to break down steps. The focus is on learning correct execution of steps with musicality, building strength and flexibility. Class goes at the pace of those who attend. If you have ever wanted to try ballet, this is the perfect class to give it a try. All levels welcome. For a more advanced class, please consider joining our Intermediate/Advanced Ballet class.
Please plan to wear something that allows you to move freely and feels comfortable to you. You might find it most helpful to wear something at least slightly form-fitting, so the instructor can see your form enough to make helpful corrections. You can wear ballet shoes or bare feet.
Upcoming classes: